Cherie Ratté
---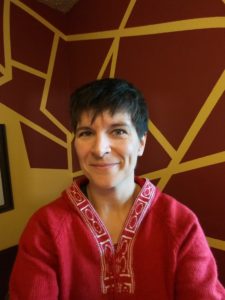 KAIROS Blanket Exercise Regional Director (Alberta)
1.877.403.8933
An educator, facilitator, and artist, Cherie was born and raised in Winnipeg and lived throughout the west before settling in Moh'kins'tsis (Calgary). Her connection to Indigenous community started with summer seasons as a teen on northern Manitoba reserves, then working alongside Elders and Knowledge Keepers with residents at a central Saskatchewan healing lodge. Her work evolved into addressing addictions in youth and barriers to Indigenous peoples in the justice system, before going overseas and contributing to community development projects in southern Africa and Central America. Back home, she continued to work with not-for-profit and grassroots organizations in newcomer, youth, and older adult communities.
Cherie holds undergraduate degrees in Justice/Law and Anthropology, and has a Masters degree in Adult Education and Community Development. She has a particular passion for participatory learning through hands-on activities and "stepping into another's shoes," and collaboratively creates and produces immersive and interactive experiences through her theatre company chiMOchiMO, seeking to drive conversation about sometimes uncomfortable and often unfamiliar topics.
Outside of her community work, Cherie loves winter and being outside with her dogs, and enthusiastically plays hockey and trains cross fit. She is addicted to volunteering and actively contributes to several arts organizations, as well as sitting on a board of directors. She also loves to sing, create, encourage, and connect with strangers wherever she goes.