CONTENTS

COPENHAGEN 2009
- Bell Ringing
- Carbon

BILL C-300

KAIROS STAFF IN ISRAEL-PALESTINE

Cerro de San Pedro

Financial Crisis An Opportunity for a New Global Order

Sister Angelina Martz
We definitely have a full issue in this months Kairos Times Newsletter.

Top on our minds is the pending climate change talks in Copenhagen in December which KAIROS will be participating in, and we would you to participate too by joining us in an international bell ringing action on December 13. John Dillon has contributed two much needed background research papers on Carbon which you can download in PDF format.

KAIROS has been pushing hard for Bill C-300, working towards Corporate Accountability Legislation for Canadian overseas companies.

KAIROS staff Julie Graham and Maya Johnston have been traveling in Israel-Palestine connecting with Partners there and we'll connect you to their blog report.

The community of Cerro de San Pedro in Mexico, which KAIROS has been engaged with for some time, has won an important legal victory but need your support to ensure that it's carried through.

We also have another briefing paper by John Dillon which analyses the possibilities for a new financial order that are inherent in the Global financial crisis.

And last, but definitely not least, we're tipping our hats to long-time activist and founder of the St. John's KAIROS group, Sister Angelina Martz who received the 2009 Maude Barlow Founder's Award.
Thanks Angie!!


PS.
Care to socialise a little?
Don't forget to join us on our increasingly active Facebook page, follow us on Twitter, and/or tune in to view our collection of videos on YouTube.






---
---
With the international climate change talks set to start in December, KAIROS has been gearing up to advocate for a just and sustainable treaty which strives to balance the account between the price already being paid by developing nations for the effects of climate change, against the profits that have already been reaped by the developed world in creating this daunting human and ecological challenge.

KAIROS will be sending Ian Thomson, our Ottawa based Ecological Justice Through Corporate Responsibility Program Coordinator, to Copenhagen where he will meet up with 8 of our global partners.

Follow their progress and experiences of advocating at Copenhagen 2009 on our website.

Meanwhile we're summoning all our member churches to join in with a global bell ringing action. On December 13 the World Council of Churches is holding an ecumenical service and when it ends, at 3pm, churches all over Denmark will ring their bells. As churches of every tradition from around the world join in to ring their bells at 3 pm in their own time zones, there will be a great 24 hour wave of bells sounding and circling round the earth.

Click here to find out more about the action, and how to participate.
---
CARBON:
TWO POLICY BRIEFING PAPERS BY JOHN DILLON
KAIROS Policy Briefing Paper #21:
Carbon Capture and Storage: A Costly and Risky Way to Tackle Climate Change
Carbon Capture and Storage (CCS) is an as yet unproven technology designed to trap carbon dioxide and store it underground so it does not escape into the atmosphere and contribute to climate change. The federal and Alberta governments are subsidizing the coal and petroleum industries by investing billions of dollars in CCS demonstration projects. This briefing note by John Dillon explores some questions concerning the costs of CCS, its risks and its adequacy as a method for mitigating climate change. It warns that investing in CCS will allow Canada to go on extracting, exporting and burning fossil fuels instead of adopting serious conservation, efficiency and renewable energy measures.

Click here to read and/or download a copy of
'Carbon Capture and Storage: A Costly and Risky Way to Tackle Climate Change'.

For more information contact John Dillon, Economic Justice Program Coordinator at jdillon@kairoscanada.org


---
Policy Briefing Paper #20:
Pricing Carbon: A Primer
This briefing paper by John Dillon examines two market-based approaches to reducing greenhouse gas emissions – cap-and-trade systems and carbon taxes. Since the Canadian government proposes to adopt cap-and-trade as a central element of its climate change strategy, this paper pays special attention to the problems associated with this option. These include the negative consequences of turning greenhouse gas emissions into a marketable commodity, especially for communities in the global South.

Click here to read and/or download a copy of
'Pricing Carbon: A Primer'.

For more information contact John Dillon, Economic Justice Program Coordinator at jdillon@kairoscanada.org






---
BILL C-300: TAKE ACTION


Support Corporate Accountability Legislation in Canada

On November 19 Connie Sorio and Ian Thomson of KAIROS appeared before the Parliamentary foreign affairs committee to express the churches support for Bill C-300, a groundbreaking private member's bill on corporate accountability. Bill C-300 (An Act respecting Corporate Accountability for the Activities of Mining, Oil or Gas in Developing Countries) would require mining, oil and gas companies to respect human rights and environmental standards in order to access financing through Export Development Canada and the Canada Pension Plan. If enacted, it would address some of the shortcoming of the federal government's Corporate Social Responsibility (CSR) strategy that was launched in March by International Trade Minister Stockwell Day.

Some KAIROS global partners have already written to Parliamentarians in Ottawa to express their support for the bill. For instance, the Cordillera Peoples Alliance in the Philippines wrote: "Bill C-300 responds to the urgent need for a stronger regulatory framework to hold Canadian mining, oil and gas companies accountable, in Canada, for human rights, labour, and environmental violations overseas. […] Bill C-300 has our support."
Take action!
We would like the standing committee members to hear from you as well. Please write to the 12 MPs on the Standing Committee on Foreign Affairs and International Development (SCFAID) who are currently holding hearings on Bill C-300. KAIROS has written a letter in support of the bill, which you're welcome to read and draw inspiration from. If possible, send your message this week so it will coincide with the KAIROS presentation to the standing committee. Please remember also to send a copy of your letter to the Member of Parliament in your own riding, wherever you live, and copy KAIROS as well at ithomson[at]kairoscanada[dot]org.

KAIROS letter in support of Bill C-300

SCFAID Members
Kevin Sorensen (Chair), SorenK@parl.gc.ca
Francine Lalonde (Vice-Chair), LalonF@parl.gc.ca
Bernard Patry (Vice-Chair), PatryB@parl.gc.ca
Jim Abbott, AbbotJ@parl.gc.ca
Lois Brown, Brown.L@parl.gc.ca
Johanne Deschamps, DeschJoh@parl.gc.ca
Paul Dewar, DewarP@parl.gc.ca
Peter Goldring, GoldrP@parl.gc.ca
James Lunney, LunneJ@parl.gc.ca
Deepak Obhrai, ObhraD@parl.gc.ca
Glen Pearson, PearsG@parl.gc.ca
Bob Rae, RaeB@parl.gc.ca

Send a copy of your letter to your MP.
Find your MP using your postal code at:
http://www.parl.gc.ca

Join the Bill C-300 Facebook page >>

Read the November 23 article 'Canadian mining firms face abuse allegations' in the Toronto Star >>








---
NOVEMBER 16-30 KAIROS STAFF IN ISRAEL-PALESTINE
Middle East Partnerships Coordinator Maya Johnston and Education and Campaigns Coordinator Julie Graham are currently in Israel and the Occupied Palestinian Territories for an education visit with funded KAIROS partners and with many other peace groups on both sides of the Separation Wall.

http://whoseholyland.blogspot.com/ Julie's been writing some excellent commentaries on her blog at .

To find out where they are, and to learn more about the Partners they are visiting, go to the KAIROS GoogleMap

If you want to know a little more about KAIROS' work in the region, click here.
---
SUPPORT CERRO DE SAN PEDRO
The community of Cerro de San Pedro in Mexico has won an important legal victory that, when enforced, will stop the destruction of their historic village and the environment. Now, they need your solidarity and action to ensure that the ruling is applied.

On September 24, the Mexican court ruled that the "change in land permit", required to operate the mine in Cerro de San Pedro (CSP), was "null and void". The mining company was given until November 13, 2009 (2 weeks) to shut down its mine in CSP.

The community of CSP and friends in Canada and throughout the world celebrated the ruling, but at the same time recognized the need for ingoing pressure to ensure it is enforced.

For over 10 years the community of CSP has engaged in a legal battle with the mining company. Despite numerous court decisions favouring the community, the mining company has continued to forge ahead threatening the historic village and the surrounding fragile eco-system.

On November 2, the company issued a press release downplaying the recent court decision. In direct contraction to the ruling, the company claims to still hold all necessary permits. Furthermore, it claims to have filed an appeal on October 28, 2009. Such a claim is highly suspect as the Federal Tribunal of Administrative and Fiscal Justice is the highest instance of appeal in Mexican administrative law; its decision is final and binding – beyond appeal.

KAIROS has been accompanying the community of CSP since March 2005 when a church leaders delegation visited the community at the request of Mexican human rights partners. We have issued several urgent actions and written letters to both Mexican and Canadian governments, calling on authorities to respect the rights of the community, halt environment destruction and uphold Mexican and international law. You may have responded to these actions in the past. The community of Cerro de San Pedro again needs your solidarity and action. To send a letter to the Mexican and Canadian authorities urging them to respect and enforce this ruling, please go to:
http://aldeah.org/fr/action-urgente-arretons-minera-san-xavier

For more information:
http://www.miningwatch.ca/en/canadian-company-accused-disobeying-court-misleading-shareholders-citizens-group-argues-new-gold-vio.







---
Policy Briefing Paper #19
Financial Crisis An Opportunity for a New Global Order
John Dillon
The financial crisis has shaken confidence in the global monetary system to its core. No country has escaped its consequences which include rising levels of poverty, hunger and unemployment. The World Council of Churches invited John Dillon, Economic Justice Program Coordinator at KAIROS, to submit a paper on the origins of the financial crisis to its Advisory Group on Economic Matters. An updated version of this paper is now available for downloading. The study examines how excessive speculation made possible by financial innovation and the absence of a cooperative financial order set the stage for the crisis. The paper discusses some viable proposals for a new international monetary system to prevent future crises.

Click here to read and/or download a copy of
'Financial Crisis An Opportunity for a New Global Order'.

For more information contact John Dillon, Economic Justice Program Coordinator at jdillon@kairoscanada.org








---
KAIROS ACTIVIST RECEIVES AWARD FOR COMMITMENT TO SOCIAL JUSTICE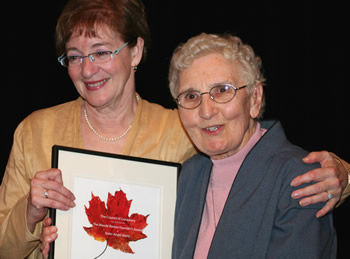 (SCIC photo)
Maude Barlow (left) congratulates Sister Angelina Martz Oct. 24 in Saint John, New Brunswick. Sister Angie received the 2009 Maude Barlow Founder's Award from the Council of Canadians during the council's annual general meeting held Oct. 23-25.

Sister Angie is a Sister of Charity of the Immaculate Conception and an active member of the Council of Canadians' Saint John chapter. She is also a founding and very active member of the Saint John KAIROS group. She was recognized for her outstanding contribution to the Council and her commitment to social justice. In May, Sister Angie received an Elizabeth Ann Seton medal at the saint's national shrine in Emmitsburg, Md. as part of Federation celebrations marking the 200th anniversary of the North American Sisters of Charity.





FEATURE RESOURCE
Connecting the Drops
In May 2009, a group of Canadian church leaders, Southern and indigenous partners and KAIROS staff travelled to the Alberta Tar Sands to learn about this industry's impact on people and the planet. Join them in this 20 minute video, as they explore the land and visit affected communities.

Order it from KAIROS by calling Caroline Foster:
416.463.5312 x221
1.877.403.8933 x221
cfoster@kairoscanada.org
FEATURE PARTNER


FRED NYABERA, the Executive Director of the Fellowship of Christian Councils and Churches in the Great Lakes and the Horn of Africa (FECCLAHA), visited us in mid-October. He shared with us his insights on the relationship between gender violence and the exploitation of natural resources. He also spoke on the role of the churches in this context. FECCLAHA promotes ecumenical cooperation to build capacity and advocate for peace building and human rights. It works in Burundi, the Democratic Republic of the Congo, Eritrea, Ethiopia, Kenya, Rwanda, Sudan, Tanzania and Uganda.


Hear John Lewis,
KAIROS Human Rights Program Coordinator,
interview Fred (mp3)
FEATURE TRADING CARD


Do you have a cell phone? It seems we all do these days. Check out the KAIROS Trading Card that links cell phones to the war in Congo and to the urgent action on corporate accountability found in this month's Kairos Times.