Alison Cox, Three Fires Confederacy
---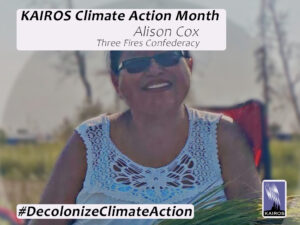 Meet Alison Cox/Morning Star Woman. Alison is an Anishinabe Ikwe Grandmother from the Mermaid Clan, Sagamok Anishnawbek First Nation, Three Fires Confederacy of the Robinson Huron Treaty lands in Ontario. Alison is married with four children and three grandchildren. She is a 60's Scoop Survivor.  
Alison is an Indigenous Elder, medicine woman, healer, ceremony conductor, musician, artist, and land activist as well as an experienced KAIROS Blanket Exercise Facilitator. 
Alison describes the impacts of colonization on Indigenous peoples and on the Earth:
"Prior to contact we are told that this is a beautiful garden and that our way needed to be able to take care of that garden, that we as Indigenous peoples are the care takers of that garden. But, today it is so hard for us to do that. And in our story we know of colonization, that our populations aren't many on this land now and that it has been overtaken by industry and what I term greed – greed of our natural resources. And this has depleted our Earth."   
She urges us all to change our mind set so we are advocating for Mother Earth:
"If we can start channeling that mind set for those things that we don't see as living but are interconnected to us and to our world as much as our blood and our bones and everything that we need to live."  
And finally, Alison challenges us to become the caretakers of the land for the next 10,000 years: 
"And because we are few now, our Indigenous peoples are few, it is up to you, Canadian society, to take on that role and responsibility. It is now your turn to make sure that life on Earth continues for the next 500, 2000, 5000, 10,000 years, as we the original caretakers have taken care of the land."  
Watch Alison's brief video.