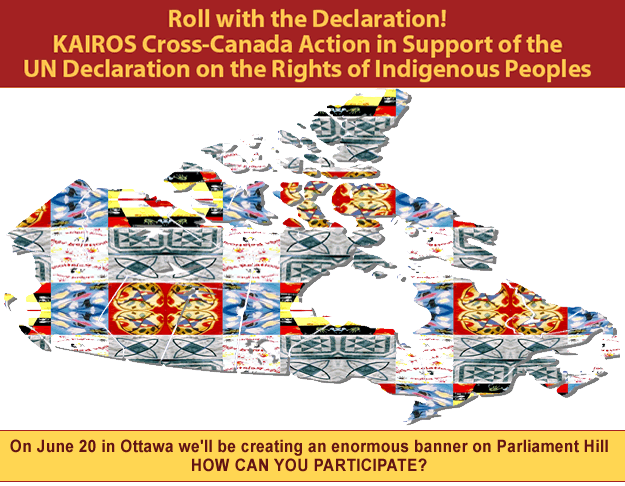 Part of the KAIROS campaign The Land, Our Life: Indigenous rights and our common future

'Roll with the Declaration' blog

How to Make A Banner
On November 12 the Canadian federal government endorsed the UN Declaration on the Rights of Indigenous Peoples (UNDRIP). This is one step in a long journey towards right relations; we must travel even further together if we are to truly live out the Declaration. Please join the KAIROS community as we celebrate the Declaration alongside Indigenous communities and leaders this June 14-21 across the country and in Ottawa. Make a banner, hold an event, and get on the train! Here's how and when your community can get involved:

Make sure you and your community have signed the new petition.

If you signed KAIROS' original petition to endorse the Declaration, we urge you to sign the modified petition demanding its effective implementation. The KAIROS Indigenous Rights Circle rewrote the petition to focus on first steps towards meaningful implementation. You can find the new petition at http://www.kairoscanada.org/take-action/the-land-our-life/undrip-petition/.

Consider joining the KAIROS community on the train. Help make this a truly national event. Talk to your group or church about sponsoring representatives to come to Ottawa.


May-June 2011
Organize or join a send-off event.
We hope as many people as possible will come to Ottawa for the June 20th event but we know that realistically most cannot. KAIROS staff, Southern and Indigenous partners, and network members will be travelling across Canada on the "Banner Train" from June 14 to 19. If we come through a community near you, we invite you to plan a special event at the train station. Bring the signed petition and the banners; join with local Indigenous and civil society leaders and make some noise! If you're not near a station, consider a bike trip, canoeing, car pooling or other low-carbon way of getting your banners to the train. For info on stops along the way, or to sign up for helping with a public event at a train station or stop, get in touch! Watch the KAIROS site for train and event times and event locations.
Sunday June 19
During your Sunday service, include the ecumenical KAIROS bulletin insert on the UN Declaration and use ecumenical and denominational worship resources that remind us of the importance of National Aboriginal Day, June 21. Join in prayers for all who are present in Ottawa, for Indigenous communities and allies, and for decision-makers. Ensure that your faith community is made aware of any local events for June 21.
June 20
Keep the Ottawa event in your prayers as we join with local First Nations, unions, students and many more in prayer and ceremony, meetings with MPs and Ministers, and a march through Ottawa.
June 21
Wherever you are, join in community celebrations of National Aboriginal Day and the National Aboriginal Day of Prayer. Honour the call to right relationship by joining together to listen and speak, learn and celebrate. Honour First Nations, Métis, and Inuit communities by participating in local events and public ceremonies.
Ideas? Questions?
We want to hear from you! Get in touch:
connect@kairoscanada.org
or 1 877 403 8933 x 243.