TOUR SCHEDULE

Download the Full Tour PDF

June 7, 8 ------ Halifax, NS
(Download event poster)

June 9, 10 ----- Antigonish, NS
(Download event poster)

June 12 -------- Bridgewater, NS
(Download event poster)

June 13 -------- Corner Brook, NL
(Download event poster)

June 14 -------- South Brook, NL
(Download event poster)

June 15-17 ---- St. John's, NL
(Download event poster)

June 19 -------- Toronto, ON

June 20 - 24 ---- Saskatoon, SK Truth and Reconciliation Commission Event
(Download event poster)
---
Living Courage Tour 2011
KAIROS is pleased to announce that the 2012 Living Courage Tour will be visiting Canadian communities from June 6 to 24 to continue conversations and inspire action on human rights! In October 2011, the first Living Courage Tour generated energy and momentum as it travelled from Penelakut, British Colombia, to Montréal, Québec. The 2012 Living Courage Tour will build on this momentum as it visits communities in Nova Scotia, Newfoundland, Toronto and Saskatchewan.

Two extraordinary women human rights defenders from the Global South will join us for the tour: Claudia Castellanos Roncancio, a human rights lawyer and advocate from the Popular Feminist Organization (OFP) in Colombia and Lucy Talgieh, Women's Project Coordinator, at Wi'am: Palestinian Conflict Resolution Center in Bethlehem.

These courageous women will speak to Canadians at a number of public events. This year's events will continue the tradition of bringing together women human rights defenders from the South with Indigenous human rights defenders in Canada. Our partners will share their experiences of gender violence, conflict, militarization and colonization, as well as their roles building peace in their communities and beyond. The Tour will focus on local and global experiences, building alliances between generations as well as across borders, as women share their vision and messages of hope that they wish to pass on to future generations.

The global partners will visit Saskatoon in response to a call from Indigenous communities in Canada for international witness to the Truth and Reconciliation Commission hearings in Canada. The hearings in Saskatoon between 20 and 24 June are expected to include 10,000 people and will be a crucial moment of truth-telling and listening for all Canadians. For global partners who have called on Canadians to witness and participate in truth, reconciliation and justice hearings and tribunals in their own countries, this will be an opportunity to reciprocate by providing witness and accompaniment to a truth and reconciliation process here in Canada.

As the 2012 Tour makes its way from Halifax to Saskatoon, we will meet with Indigenous activists, local groups, social justice movements, faith communities and civil society partners. The participants of this Tour embody the inspirational contributions women make in the struggle against violence and the work for global justice and peace. We hope you will join us for this extraordinary opportunity make connections across borders and generations, both in our own communities and around the globe.

Please help us by promoting these events in your communities! Check out our events postings to find details about an event near you. Download the poster for the whole tour here.

For more information please contact Rachel Warden at rwarden@kairoscanada.org or at 416-463-5312 ext. 242.
---
Living Courage Tour Delegates
Claudia Liliana Castellanos Roncancio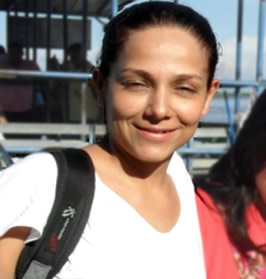 CLAUDIA LILIANA CASTELLANOS RONCANCIO is a lawyer with KAIROS' long-time partner, the Popular Feminist Organization (OFP) in Magdalena Medio, Colombia. Her experience includes working with youth, women, displaced communities and Indigenous peoples to build their capacity to use human rights to promote and defend their rights. She has also worked as a Legal Assistant to Indigenous and displaced peoples and as the Coordinator of Development and Peace for the Diocese of Mangague in Magdalena Medio.

Claudia earned her law degree at the University of Bucaramanga and has since participated in numerous seminars and workshops related to national and international law. Her current work focuses on human rights and gender. She has accompanied female victims of human rights abuses and has worked on advocacy related to these cases. She is involved in training related to gender based violence, rights of women and rights of women to truth, justice and reparation. She is currently involved in the development of a Women's Courts for Truth, Justice and Reparations in Colombia. These Courts, the first of which is planned for 2013, aim to create a forum to speak out about the human rights abuses experienced by women in Colombia.
Lucy Talgieh
LUCY TALGIEH has been affiliated with Wi'am: Palestinian Conflict Resolution Center in Bethlehem since 1997, where she currently works as the Women's Project Coordinator. Her responsibilities include organizing workshops, trainings and advocacy gatherings, as well as leading vocational trainings and counseling women in Palestinian villages. A member of the Roman Catholic Church, she is a co-signatory to the Kairos Palestine: A Moment of Truth ecumenical statement.

Lucy earned a BA in Religious Studies from Bethlehem University and a MA in Democracy and Human Rights from Bir Zeit University. Her additional coursework includes Civic Education and Human Rights at the Law Society in Ramallah, Capacity Building and NGO Management in the Middle East and North African Region at the American University of Beirut, and Income-Generating Initiatives for Women at the International Institute in Israel. She attended the Summer Peace Institute at Eastern Mennonite University. Most recently, she participated in a leadership program at Syracuse University (2011). She recently led a project titled "Inheritance Denied: Combating Gender Inequality in Property Rights in Palestine."