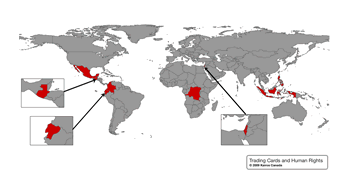 The KAIROS Trading Rights Project connects young Canadians' lives to issues of trade and human rights.

While it has been over 60 years since Canadian John Humphrey and his colleagues completed the Universal Declaration of Human Rights (UDHR) establishing the foundation for international human rights, today's trading relationships often sideline human rights, the "trading rights" of the world's peoples, for increased global trade and profits of Canada's corporations.

This project provides tools for taking action to help Canada put human rights where they belong; at the centre of all ethical and legal relationships among Canadians and with others overseas.

While the project was designed with young Canadians in mind, anyone can use the trading cards. Download them, distribute them in your community, and visit the Take Action! page on this website for more ways to get involved.

To order the Trading Rights resources, please fill out an online order form.
DOWNLOAD THE TRADING CARDS
Human Rights Defenders
Pascal Kabungulu Kimbembi in the DR Congo

Marlene Gonzales in the Philippines

Hani Amer in the Occupied Palestinian Territories

Ana Maria Alvarado in Mexico


Products
Coffee and Fair Trade

French Fries and Free Trade

Cell Phones and Civil War

Flowers & Violence


Companies
Ivanhoe Energy in Ecuador

ExxonMobil in Indonesia

TVI Pacific in the Philippines

Ahava Skincare in Occupied Palestinian Territories


After downloading & printing, cut in half and paste front and back side of cards together. Use the Educators' Guide for suggestions on how to use the cards.
Educators, youth leaders or student clubs: click here to access our Educators' Guide.
---
TRADE & RIGHTS NEWS