'Attawapiskat: a hard look at the federal government's
response so far' – KAIROS commentary, Dec.2, 2011

Statement by Attawapiskat Chief and Council
on notice of Third Party intervention – Dec.1, 2011

Please click here for a full background
PDF version of this Urgent Action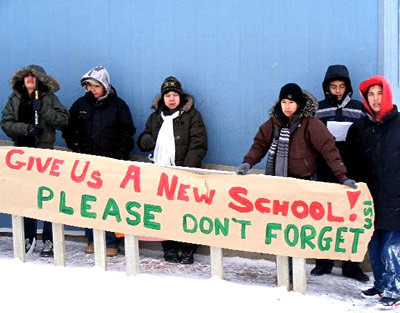 Summary:
In early November the Attawapiskat First Nation in northern Ontario took the extraordinary step of declaring a state of emergency. Faced with the beginning of winter, overcrowded housing and over one hundred people who have no houses at all, Chief Theresa Spence asked the federal and provincial government to recognize a state of emergency; to consider a temporary evacuation of the community; and to reach agreement on the funding needed to build housing, supply clean drinking water, and build the new elementary school that has been promised for years.

As this action was sent out, CBC reported that "Aboriginal Affairs Minister John Duncan said Friday that no decision has been made to provide added funding to Attawapiskat to address a housing shortage, but his officials will travel to the northern Ontario reserve to ensure recent aid is being used effectively." No timeline on emergency assistance has been offered by either government. Temperatures at James Bay are dropping fast. People may die if nothing is done.

KAIROS believes that all Canadians support the basic human right to safe housing, health, education, and clean water. Currently the people of Attawapiskat lack all of these. We also believe that as a society we have more than enough money to ensure that all people's basic needs are met. The real issues are the funding choices we make, and the continued lack of self-determination and access to their traditional lands that face the vast majority of Aboriginal communities.
What you can do:
Please support the people of Attawapiskat. Christians are in the season of Advent, a time of waiting, hope and celebration. KAIROS asks you to include Attawapiskat in your Advent prayers or the prayers of your own faith tradition, and to invite people to write letters and cards to MPs. (Attawapiskat is pronounced At-ah-WAH-pis-kat.)

Call or write to the Federal Minister for Aboriginal Affairs, John Duncan; the Ontario Aboriginal Affairs Minister, Kathleen Wynne; your Member of Parliament; and (if you live in Ontario) your Member of Provincial Parliament. Do this as individuals or as a class, group or faith community. Consider asking your MP for a meeting when she or he is home on the Parliamentary break. (See contact information below.)
Ask them to:
Immediately prioritize emergency funding that will provide safe housing for everyone this winter, and/or evacuation, as community members wish. Please acknowledge the $2.5 million Aboriginal Affairs Minister John Duncan recently committed with conditions, but note that much more must be done to address the problem, and that funds must move very quickly.
Work with the First Nation, the government of Ontario, and the federal government to ensure long-term funding to cover the costs of constructing new houses, a safe water and sanitation system, and a replacement elementary school.
Please stress that Canadians in any kind of crisis should not be caught in funding disputes between differing levels of government. This is a common and very troubling situation for Indigenous communities.
Please add your personal thoughts.
Further resources (KAIROS offers these as background information only, not as an endorsement)
The June 2011 Auditor General's report includes a chapter dedicated to infrastructure on First Nations reserves (PDF version).

Aboriginal blog with a plain-language Q&A on what's going on in Attawapiskat

What if They Declared an Emergency and No One Came? By Charlie Angus, Member of Parliament for Timmins-James Bay

Honouring the Children: KAIROS and First Nations Child and Family Caring Society shadow report to the UN review of Canada's compliance with the Convention on the Rights of the Child (This resource is designed to be read by high school students and older. Bulk print copies are available for churches and classrooms. Please enquire at orders@kairoscanada.org.)

CBC article examining the housing crisis on reserves

CBC article examining the water crisis on reserves

Shannen's Dream: First Nations Child and Family Caring Society

Video: Ontario Aboriginal people need housing help (CBC)

Video: Canadian Geographic on Attawapiskat school

Interview with Mike Koostachin, community member, about the De Beers Diamond mine
Contact information:
Find your Member of Parliament using your postal code
.
Mail may be sent postage-free to any Member at the following address:
House of Commons,
Parliament Buildings,
Ottawa, Ontario.
Canada, K1A 0A6
Hon. John Duncan
, federal Minister for Aboriginal Affairs and Northern Development:
minister@aadnc-aandc.gc.ca
or Hon John Duncan, Parliament Buildings,
Ottawa, Ontario.
Canada, K1A 0A6
(no postage needed).
Phone: 819-997-0002 FAX: 819 953 4941
Hon. Kathleen Wynne
, Ontario Aboriginal Affairs Minister:
minister.maa@ontario.ca
Ministry of Aboriginal Affairs
160 Bloor St. East, 4th floor
Toronto, Ontario, Canada
M7A 2E6
Ontario Members of the Provincial Parliament:
http://www.ontla.on.ca/web/members/member_addresses.do?locale=en
Please send copies of your letters to:
Ed Bianchi (Indigenous Rights coordinator, KAIROS)
ebianchi@kairoscanada.org
and
Julie Graham (Education Coordinator, Dignity and Rights, KAIROS)
jgraham@kairoscanada.org
or
310 Dupont St,
Suite 200,
Toronto ON
M5R 1V9.
Thank you!
KAIROS unites eleven Canadian churches and religious communities in faithful action for ecological justice and human rights.